Entrematic automatic sliding door operator
Our combination of Entrematic EMSL sliding door operators and Hotron monitored sensors help us achieve our standard of excellence. The Entrematic slide unit is a highly efficient operator, especially when twinned with the Hotron HR100/CT sensors.
The door has been specially designed using a high grade nylon track and felt guides to keep friction and noise to a minimum providing the automatic door with nearly silent operation. The advanced processor of the EMSL and the high performance of the Hotron sensors make our doors among the safest on the market, fully compliant to EN16005 and DDA requirements.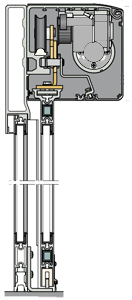 The stylish design and soft lines of the operator ensure the perfect choice for architects and customers alike. The design of the EMSL ensures it is perfectly suited to be used as a high traffic door in the most challenging environments such as Morrisons, Sainsburys, Tesco, Hospitals, High traffic public buildings and more.
The operator has the capability of incorporating an electric solenoid lock, making the EMSL the perfect choice for access Opening Systems and bespoke automatic sliding door packages.
As an inherent part of the automatic sliding door design, maintenance costs are low due to the low amount of actual moving parts. The minimal swept area of a sliding door makes them safer than most other automatic door systems.
We are able to supply, fit and maintain a variety of automatic door packages such as aluminium framed doors, AP glass packages, thermal doors, timber doors etc.
The telescopic sliding door provides a much larger opening width when compared to a standard sliding door. The Entrematic EMSL-T is the ideal product due to low operating noise, smooth operation and smart processor. Adding Hotron sensors to the telescopic door provides enhanced safety throughout the full operational cycle of the door maintaining full compliance with EN16005.
Automatic sliding door sensor
The HR100/CT sensor incorporates uni-directional activation technology. This enables the door to ignore cross traffic and pedestrians moving away from the door. This enables the door to only open when required ensuring the heat in the building is not escaping unnecessarily. This simple device may have a big impact on your heating bills and will ultimately help protect the environment.